5 Most Romantic Locations for Couples to Visit in Croatia
Croatia is a sunny country with exceptional food and wine culture, amazing landscapes, and many hidden coves where you can have a quiet time observing the sea. These are just some of the reasons why you should pick Croatia as your next romantic getaway.
Aside from popular places like Split or Dubrovnik, Croatia has to offer so much to romantic souls, honeymooners, or families with kids. Keep reading to discover the most romantic locations for couples to visit in Croatia:
1. Trakošćan Castle
Croatia is a country with rich history and along with that comes many historical buildings, archeological sites, and quite a few castles. Although if you wanted to see all the castles in Croatia you would need more than a few days, choosing only one is not so difficult.
Trakošćan castle stands out from all the others, not only because of its magnificent beauty and incredible nature surrounding it but also because it has been greatly preserved through centuries.
When you arrive at the parking lot in front of the castle that you will see on the hill, there is a ticket office where you can buy a ticket for both the castle and the park surrounding it. Castle is located on a hill that is not hard to hike, and often there is a carriage with horses that offers a faster and more scenic ride up the hill.
Once you are at the entrance, you will be fascinated by the indoors and outdoors of this gorgeous building. Perfectly furnished rooms, windows, and balconies with a view of the forest and the lake will take you back centuries while you are walking through the castle.
When you are done with your visit you can explore the park which includes the lake you can walk all the way around. On the lake, there is a little cafe too, where you can sit and relax collecting your thoughts and fascinating memories.
If you want to stay for a few days, nearby Hotel Trakošćan offers romantic getaway packages that include a spa, walks in nature, all the delicious meals, and views of the castle from your stateroom. The city of Varaždin is minutes' drive from this location and another great place to see in the Zagorje region.
2. Motovun
Motovun is special because it is an authentic Istrian town in Croatia located on the hilltop, often above the clouds. The marvelous church of St. Stephen from the 17th century is built right next to the 13th-century bell tower created in Romanesque-Gothic style, which is dominating the town's historic district.
You can wander the streets of this gorgeous medieval town which hasn't changed much through history, and stop by small cafes and souvenir shops owned by the locals. If you visit Motovun off-season, you will get to explore this small town with almost no tourists around.
Motovun is a great introduction to continental Istria, and a visit to Motovun can be combined with other cities nearby, like Vodnjan, Pula, Rovinj, or Poreč.
3. Rovinj
Rovinj is a stunning coastal town in Croatia that in high season can be very busy, but still unforgettable and should not be skipped. If you are visiting Istria in early or late summer, that is even better, because with fewer visitors this city can be enjoyed much more.
Narrow alleys, colorful homes, and sparkling blue waters of the Adriatic Sea will inspire you on long walks. When you get tired you can rest in fantastic small cafes and restaurants, where you can try the best Istrian specialties and wines.
Rovinj is a fantastic place for foodies. It is home to two Michelin restaurants with one star, and two more also recommended by the Michelin guide. These are Monte and Agli Amici which have Michelin stars, and La Puntulina and Cap Aureo from the guide.
4. Mali Lošinj
Croatia is home to over 2000 islands, which is why for a first-time visitor it is hard to choose where to stay. Mali Lošinj is a relaxing island far away from the city noise. It has more than 200 sunny days, crystal clear sea, clean beaches with pebble stones, and a lot of health benefits that come from the sun and air.
Many call this island The Island of Vitality. Here you will find mild weather, abundant biodiversity, a welcoming atmosphere, a rich cultural heritage, and 250 culture and entertainment events throughout the year.
An important component of the offer is the over 125-year tradition of health tourism, a distinctive outdoor aromatherapy is produced by mixing the aromas of a dense pine forest, medicinal herbs, and sea aerosols. Long walks, and swimming in hidden coves, will help you connect to your other half in new ways.
5. Zagreb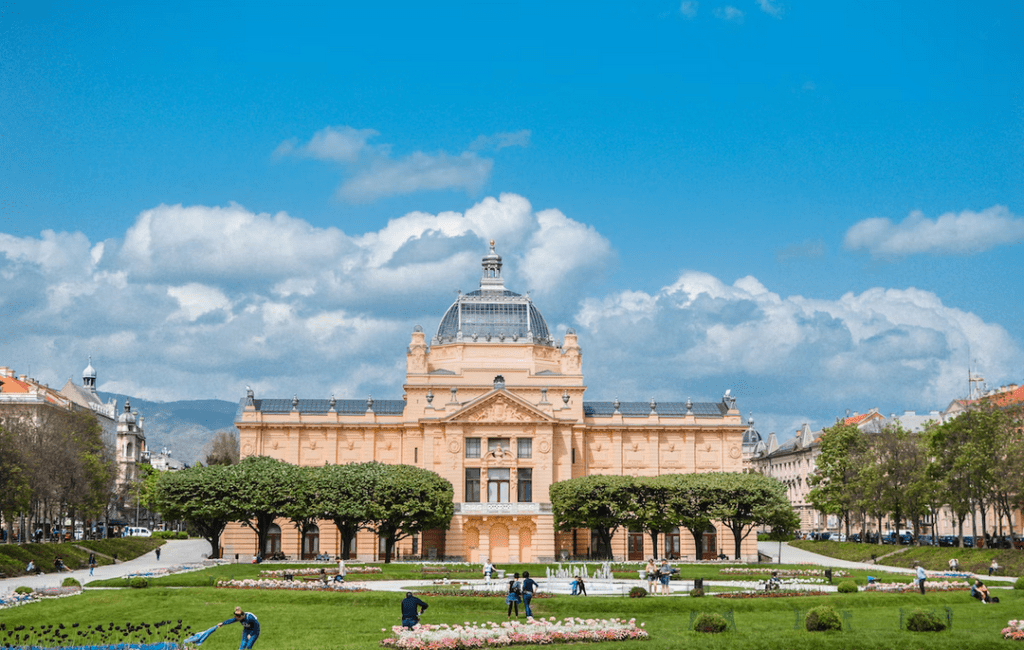 Although it is a capital city, Zagreb is far from a busy place. The atmosphere in the city is surprisingly laid back and relaxing, with a lot of romantic corners and fantastic restaurants. The best time to visit Zagreb is spring, but anytime there is a lot to do for couples.
Spring is magnificent because of all the flowers and trees that are blooming, and with many city parks, you will want to stay outdoors all day long. From Maksimir to the Botanical gardens, there are many places where you can enjoy the greenery and have a great time with your spouse.
Zagreb also has historical and cultural importance, so those that like the old town will be fascinated with Zagreb's Upper Town where you can walk the streets of the medieval city, overlooking the Lower Town where all the fun bars and restaurants are located.
The old town of Zagreb has many cute little parks and places overlooking the city where you can sit on a bench and watch people passing by. Stop by Grič park or Vranyczanyeva poljana, or sit on the Strossmayer promenade. If you get cold you can visit some romantic restaurants like Noel, Zinfandel, and Stara Vura for a hot meal and glass of wine.
Final thoughts…
In a fairytale land like Croatia, it is easy to find romantic locations while experiencing a country not spoiled by mass tourism. The best part is, you can drive from one place to another easily, so write down your favorites and plan your romantic trip to Croatia.
Need help planning your Croatian trip? The Trip Atelier takes the stress out of vacation planning. Schedule a consultation and start crafting a memorable vacation in Croatia today.