4 Questions to Help Plan Your Vancouver Trip
The picturesque Vancouver, British Columbia, is a prime example of polite west coast vibes. The wild beauty of Stanley Park and the North Shore mixed with downtown and Yaletown's high-rises and water views create a unique vibe that is both laid back and buzzing with excitement.
As one of the world's most desirable places to live, the city becoming the ultimate tourist hotspot for both urban explorers and nature lovers. The city is surrounded by ocean and snow-capped mountains, so those exploring the city are never too far for an adventure in the wild like skiing, snowboarding, mountain biking, hiking and kayaking.
Embrace the city's laid-back, outdoorsy lifestyle while enjoying Vancouver's abundance of amenities. Hike in the morning and enjoy a classy night on the town.
Here are four questions (and answers) to help you plan your Vancouver adventure:
1. What Are the Different Neighborhoods in Vancouver?
Vancouver is divided into three sections: the Westside, Eastside (East Van) and Downtown. Each of these sections includes different neighborhoods with their own personalities.
Take the Westside, for example. Its distinctive neighborhoods include Kitsilano and South Granville, as well as the University of British Columbia. The Westside offers different visitor attractions including the landmark Granville Island market, beaches, museums and sidewalk cafes that line the streets of the Westside and complement its thriving arts scene.
East Vancouver (aka East Van) is diverse and residential with bohemian communities such as South Main (SoMa) and Punjabi Market. This section of town also houses many of the city's breweries and has even earned the nickname "Yeast Van.
Vancouver's Downtown includes Yaletown, the West End's Stanley Park and Gastown. Yaletown is known for its high-rises and chic galleries, boutiques, restaurants, and bars. Gastown has been revitalized and offers a variety of nooks and crannies that lead to hipster hangouts, restaurants and gift shops unique to Vancouver.
2. What Can I Do in Vancouver?
All of Vancouver's neighborhoods are never too fair from the mountains. Heme to some of North America's best skiing and snowboarding conditions just minutes outside the city, the city balances natural and city-based adventures.
One natural adventure looms across the water from downtown Vancouver. Grouse Mountain is an adrenaline junkie's heaven. The giant hit is home to the Grouse Grind, a 2.9-kilometer trail up the face of Grouse Mountain, commonly referred to as "Mother Nature's Stairmaster." Other mountains and hiking areas are more suitable to more leisurely adventures, such as Lynn Canyon and Capilano Suspension Bridge Park.
For more city-based activities, Vancouver is home to an abundance of breweries strewn throughout the city. Travelers can also visit Science World and downtown's Vancouver Art Gallery. Granville Island is a famed public market on the waterfront underneath one of the city's main bridges.
Vancouver's food scene is just as diverse as its neighborhoods. Seafood lovers will have many options for what to enjoy, including Fanny Bay Oyster Bar & Shellfish Market and Blue Water Café + Raw Bar in Yaletown.
You can't go to Vancouver and not enjoy Asian-influenced food. One of the hotspots is JapaDog, which offers a New York-style hot dog that comes with seaweed and okonomiyaki sauce. The West End neighborhood is also home to various sushi bars and Chinese dumping restaurants that just melt in your mouth.
Gastown is home to gastropubs while Kitsilano is known for its authentic Greek restaurants like Pantheon.
3. How Do I Get Around?
If you're flying into Vancouver, your first stop is most likely the airport: Vancouver International Airport (YVR)—Western Canada's main hub that serves most Canadian and American airlines.
Located just south of the city, YVR is convenient to the city's SkyTrain (its subway system). Jump on the Canada Line, and head toward the city's downtown and waterfront area. The direct rapid service to downtown costs less than $10 CAD—way less money than taking a taxi.
To get around the city, Vancouver's public transportation system is the easiest. The public transit system, TransLink, includes buses, ferries and the SkyTrain. The city's buses are clean and take you to all parts of the metro area, including to the North Shore. Also, ferries are fun ways to get from one point to the other. Take a ferry from Granville Island to Olympic Village or from the city's main waterfront station to Lonsdale Quay.
Vancouver is a bicycle-friendly city, so rent a bike and take a turn along Stanley Park's seawall and see the sights like a local.
Ride-sharing services, such as Uber and Lyft, are not available in Vancouver. Taxis are available, but the city's public transit system can sufficiently get you where you need to be.
4. What's the Weather Like?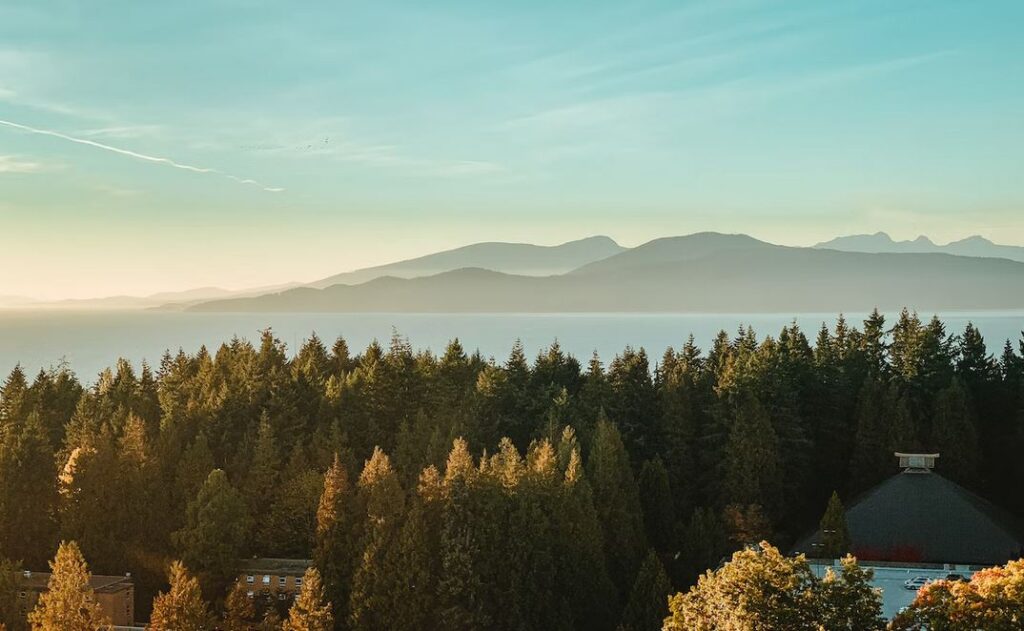 With a western marine climate, Vancouver has some modest weather in all of Canada. Summers are typically dry and have average high temperatures of about 71° F (22° C).
Because of the combination of the Pacific Ocean and a lack of Arctic air, the city's winters stay about freezing but are still chilly with high average temperatures of about 38° F (3.3° C). The difference between the weather whether you're coastal or inland is notable with temperature varying up to 10°. The higher elevations see heavier snowfall, which is great for skiers and snowboarders.
There is no best time to visit Vancouver, as all seasons offer fresh adventures. For snow sports, visit in the autumn and winter, and visit the beaches and farmer's markets in the summer.
Regardless of when you visit Vancouver, you'll see Western Canada's natural beauty that is one of a kind.
---
Need help planning your next trip? The Trip Atelier takes the stress out of vacation planning. Schedule a consultation and start crafting a memorable vacation today.