Canals and Coffee shops: Exploring the Remarkable Amsterdam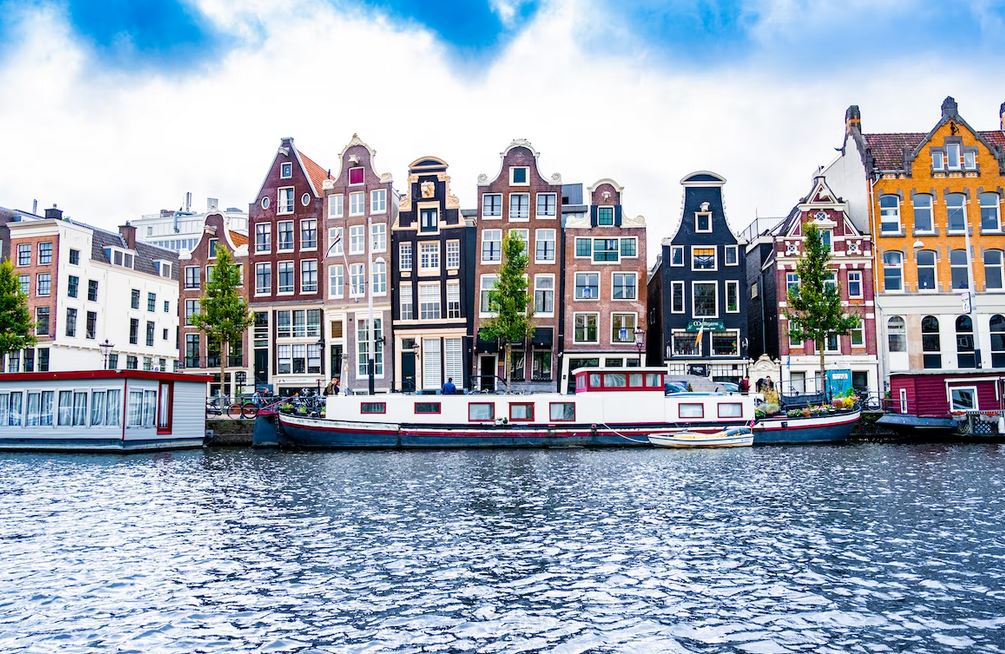 Nicknamed the "Venice of the North," Amsterdam, Netherlands, is home to world-famous museums, floating flower markets, and nightlife unmatched in all of Europe.
Venetian canals thread their way among narrow streets lined with famed canal houses, the Dutch city offers something for everyone. Whether you're visiting coffee houses or the Anne Frank House, the tiny streets hold big possibilities.
More than four million visitors a year fawn over the grand displays of modern and pre-war adventure and the various exhibits within Museum Square—Museumplein. Those museums house priceless artworks of masters including Van Gogh and Rembrandt.
Follow the canals into the city center and see Dam Square— considered the true heart of the city, where street performers, vendors, peddlers and musicians create an unforgettable ambiance found only in Amsterdam.
Experiencing Amsterdam
The core of the city has several names: Old Centre and Centrum. Home to Dam Square and the popular commercial street, Kalverstraat, Centrum also includes the Nieuwmarkt area where dozens of coffee shops, outdoor cafes and markets line the square.
Also located within the center of the city and a popular tourist destination is the Old Jewish Quarter. This area houses the Portuguese Synagogue, Jewish Cultural Museum, Waterlooplein Market and Artis Zoo.
The Jordaan and Spui neighborhoods are growing districts with upscale boutiques and restaurants. They are also home to the floating flower market (Bloemensingel) that is packed with Dutch tulips swaying over the Singel Canal.
One neighborhood is quite notorious. De Wallen is known around the world as the infamous Red Light District of Amsterdam. A main tourist attraction, the neighborhood boasts sex shops, adults-only theaters and coffee shops.
Museumplein, the museum quarter, is a residential-looking neighborhood with three of the country's most important museums: the Rijksmuseum, Stedelijk Museum of Modern Art, and Van Gogh Museum. First-time visitors need to experience each of these museums and check nearby Vondelpark, and two of the ritziest shopping streets—Hooftstraat and Van Baerlestraat.
Amsterdam Food
The dining scene represents its population's diversity well.
Often voted one of the city's best, Seasons Restaurant in Centrum serves international and seasonal cuisine.
For a taste of something local, Greetje specializes in Dutch and French specialties, including wild duckling with apple syrup, potato tartlets with cheese and wine gravy and black pudding with apple compote.
Feeling like something else? Located within the Hotel Okura, Yamazato offers authentic Japanese food, and Koh-i-Noor, which specializes in Indian is one of the city's most renowned restaurants.
Amsterdam Transportation
Getting around is fairly simple, with different modes of transportation available. After all, there are about 881,000 bikes for the city's 851,000 residents.
Flying into Amsterdam is quite easy with the Amsterdam Airport Schiphol (AMS)—one Europe's busiest airports.
Another common way to get in and out of the city is taking the train from Amsterdam Central Station, which is located between the Old Centre and the waterfront.
For getting around the city, metro lines, trams and other modes of transportation are available. Central Amsterdam is very walkable and is best seen on foot or by bike.
While taxis are available, they are an expensive option.
Amsterdam Weather
The weather in Amsterdam can be beautiful and rainy—but there's no need to fret. The city's cool, oceanic climate is influenced by its proximity to the North Sea.
Winter temperatures are typically cool, with a January average temperature of 41.7° F (5.4° C). Summers are fairly mild. In the warmest month of August, high temperatures of about 71.2° F (21.8° C) are pleasant.
Amsterdam is a year-round destination without much precipitation of extremes in weather, Amsterdam is a year-round destination. Spring and summer are peak tourism months.
---
Need help planning your trip? The Trip Atelier takes the stress out of vacation planning. Schedule a consultation to plan your amazing Amsterdam adventure!