2 Spectacular Parks to Visit in Canada's Rockies
Canada's Rockies are magnificent, imposing, and the turquoise waters and towering peaks are often thought of when considering a trip to Canada. From horseback riding in Jasper to paddling the still waters of Banff's Moraine Lake, let's dive into some of the best things to see and do in Canada's Rockies!
Banff National Park
Gracing countless postcards for the Rockies is the crystal clear, aquamarine Moraine Lake, bordered by the Ten Peaks mountain range. An alpine lake fed by glacial melt, Moraine Lake is one of the most visited lakes in the Rockies for good reason. Its surface is frozen over from October to June, making a paddle on it during the summer months all the more special.
For a jaw-dropping, adrenaline-filled experience, nothing beats a heli-tour over the Canada's Rockies. Soar over the Cline Pass, and glide right by the Cline, Lion, and Lioness glaciers. Touch down on a snowy glacier for a Bailey's and hot cocoa, or even a snowball fight.
No visit to Banff is complete without a stop in the town itself, and a stroll along quaint Banff Ave, with Cascade Mountain looming in the distance. Stroll the shops, imbibe at the Banff Ave Brewing Co., and collect the perfect souvenirs to bring home.
Nestled in between Banff and Jasper on the Columbia Icefields Parkway is Lake Louise. This small hamlet is overlooked by the famed Chateau Lake Louise, an iconic Fairmont Resorts property. To enjoy your views with a side of luxury, make a stop at the Chateau for afternoon tea, or a cocktail in the Lakeview Lounge. Lake Louise is also home to the Victoria Glacier, countless turquoise lakes, and ample hiking trails for outdoor enthusiasts.
Jasper National Park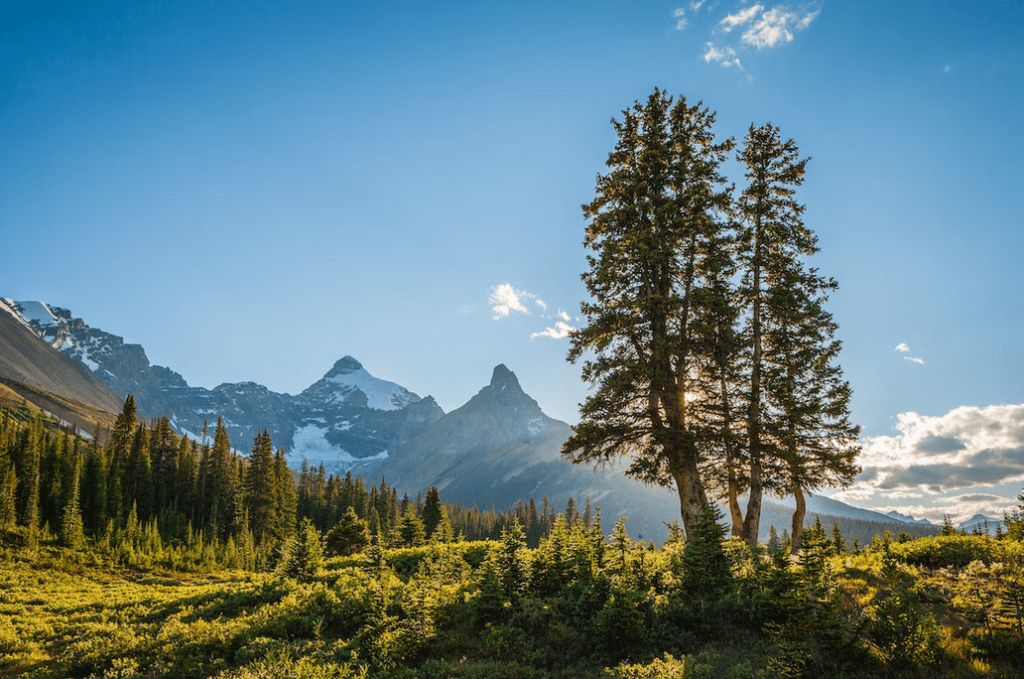 Connecting Banff and Jasper National Parks is the Columbia Icefields Parkway. It's a scenic drive offering access to the Crowfoot Glacier, Bow Lake, and the Weeping Wall. The must-see stop along the Parkway is the Columbia Icefield itself, and the Athabasca Glacier. Catch a ride in an Ice Explorer and venture onto the glacier itself. Or take part in an Ice Walk, complete with an interpretive guide.
Jasper National Park is a UNESCO-protected world heritage site and is home to countless species of wildlife. An excellent way to view wildlife from a safe distance is with an expert naturalist, aboard a custom photo vehicle. You're in 'Bear Country', so don't be surprised if you happen upon a mother tending to her playful cubs. Easy walks lead to shimmering lakes, dramatic canyons, and waterfalls. And the best way to cap off this nature-filled excursion is with a boat cruise on the famous (and perfectly aquamarine) Maligne Lake.
Travel back in time with a chuck wagon and horseback riding adventure. Take in scenic mountain views as you travel by chuck wagon to a log cabin for some lassoing and horseshoes. After winning a few rounds, hop on your horse for a ride along the Bow River, culminating in some fine western hospitality and a BBQ cookout.
Whatever you'd like to do and see in Canada's Rockies, I can make it happen! Don't hesitate to reach out to me, and let's plan your next Canadian dream vacation.