Croatia: Best Family Vacation Spots
It is well known that Croatia is family-friendly, with so many beaches, sunny days, tourist attractions, and family hotels all around the country. You can start your family exploration of Croatia from the very top and go east or south, for the most popular attractions you can visit with your family in Croatia.
Why Is Croatia Good for Families?
Croatian tourism is concentrated on summer fun, food tours, history, and culture. You will rarely ever find yourself in a place with a lot of bars and nightclubs even on the sea coast. The beaches are long and the water is shallow, perfect for little kids. While your items are safe because of Croatia's low crime rate.
Locals are friendly and your kiddos will easily make friends at the beach, playing in the sand or with pebbles. Most of the tours offered in tourist hotspots are usually family-oriented, offering boat rides, submarines, Game of Thrones tours, and other walking tours, just to name a few.
Where to Go With Kids in Croatia?
Depending on what you love to do as a family, there are quite a few options for your visit to Croatia to choose from. You can visit the capital city, go to explore Croatian castles, have hiking trips in Gorski Kotar or at Plitvice Lakes National Park, or do island hopping starting in Split. Here are the top activities you can do with the family in Croatia:
Visit Zagorje Region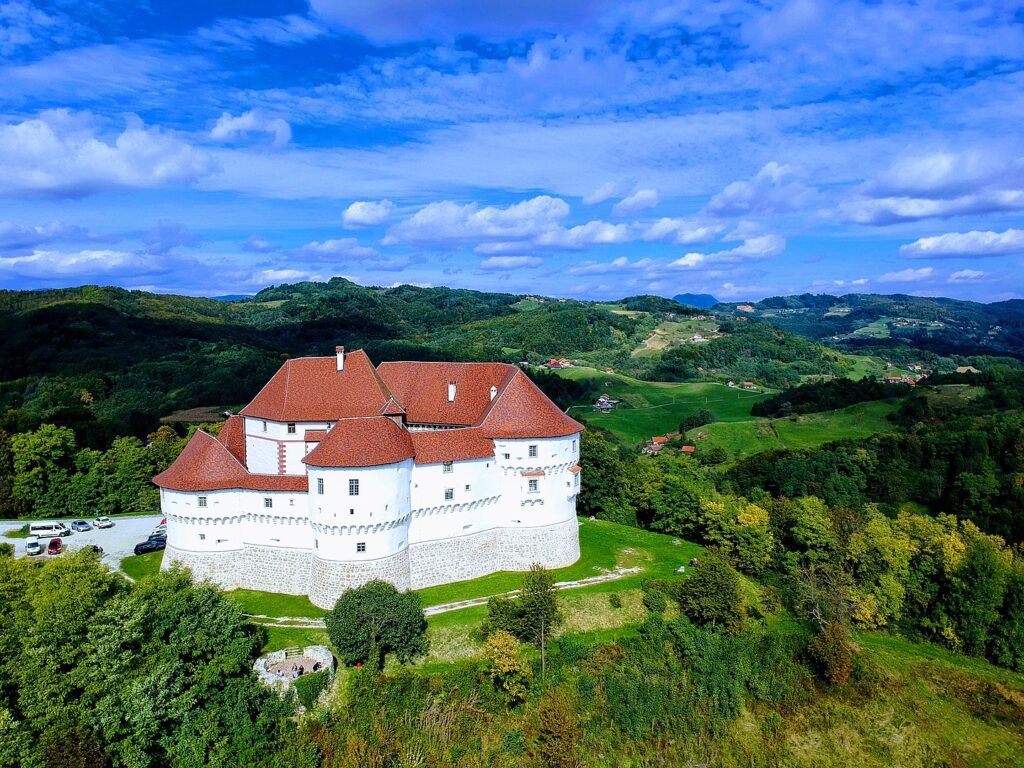 Just a short drive from the country's capital, Zagreb, you will find yourself in a rolling hills area with small towns and villages, where old architecture is found almost everywhere and every town has an interesting history to tell.
When you are visiting Croatia for the first time with family, Zagorje is usually not on your map, and you will rarely see tourist buses heading toward its attractions. But, this hidden gem has plenty to offer to families visiting Croatia.
Start your tour by visiting The Krapina Neanderthal Museum, where in an interactive exhibition that is kids friendly you will learn about archeological sites found in the area and about the natural history of Croatia. The kids will get to see Neandertals up close and discover their way of life.
Afterward, you can head to Dvor Veliki Tabor, a medieval castle about an hour's drive from Zagreb. From raming the rooms of the castle to learning the legend about Veronika of Desinić, this castle is fun for the entire family. You will see medieval weapons, and historical items and enjoy the view from the many castle windows.
On the way to Dvor Veliki Tabor, you will pass by Water Planet, an aqua park in Terme Tuhelj, and the spa hotel perfect for families that love water fun. With a day pass, you can enjoy several swimming pools, water slides, and waves.
Discover Game of Thrones in Dubrovnik
Dubrovnik is a city of great history and cultural heritage. You can walk through the narrow cobblestone streets all day, taking breaks at cute locally-owned restaurants and cafes. However, the real fun starts when you book one of the tours that will take you to the Game of Thrones filming locations.
King's Landing can be explored on your own or with a tour guide, and locations you will see are Jesuit Staircase, St Dominic Street, Ethnographic Museum Rupe, Ploče Gate, and Rector's Palace. These gorgeous locations are impressive to see even if you haven't seen the show.
However, this is not the only amazing thing you can do with kids in Dubrovnik. The whole area is famous for its beaches, boat trips, snorkeling, and Konavle wine and food. To truly experience the coast take the Elaphiti Islands cruise which is usually a full-day tour that includes visits to some of the most beautiful locations in the Adriatic.
Make Sandcastles On The Beach
Most of the Croatian beaches are pebble or gravel, but there are numerous sandy beaches too which are more popular for little kids. The advantage of sandy beaches for children is that they can play in the sand, but also that the water is shallow and they will not fall onto the rocks.
Lopar beach is one of the most popular family beaches in Croatia. It is located on the lovely island of Rab, which is only offshore from the mainland's north coast. The simplest way to get there is to travel to Jablanac and board the ferry to Misnjak.
Bačvice beach in Split is another great location, easily accessible with all the facilities you may need on a beach, including toilets and beach bars. The swimming conditions in Bavice are renowned to be calm, and there are many water activities available to keep you occupied all day.
Hike In Plitvice Lakes National Park
The Plitvice Lakes National Park features 4 lower lakes and 12 picturesque upper lakes encircled by boardwalks and hiking trails. Children of all ages will enjoy strolling along wooden walks through breathtaking waterfalls, but since the walk can take all day it is best if you prepare your kids for the full day of walking because it is difficult to take a stroller with you inside the park. If you are traveling with a baby or a toddler it is better to have a baby carrier.
There are wooden walkways along the lakes as well as stairs for the higher climbs in the park, which is made up of a network of 16 interconnected lakes that cascade into one another via waterfalls. Additionally, boats connect the shorelines of the major lakes. Everywhere you look will be an amazing photo opportunity so make sure you bring your camera with you for the best family photos.
Before The Trip…
These are great examples of how magnificent Croatia is for families, but there are still so many places you can go to. From historic towns and archeological ruins to amazing parks and museums, this country has something for everyone. Make a list of your favorite places so that the next time you visit Croatia you know where to start your family exploration.
If you've been dreaming of visiting Croatia, let's talk! The Trip Atelier takes the stress out of vacation planning. Schedule a consultation to plan your amazing European adventure!